Inlays and onlays are a type of indirect restoration, where your dentist fabricates the restoration outside of your mouth and cements it into place. A direct restoration, most commonly fillings, are placed immediately into a prepared cavity in a single visit.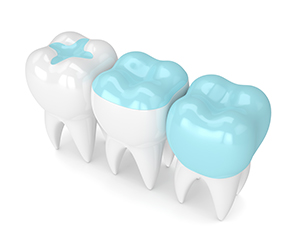 Inlays and onlays are used in molars or premolars, when the tooth has experienced too much damage to support a basic filling, but not so much damage that a crown is necessary. They can be made of gold, metal alloys, ceramics, or composites. An inlay is used when the cavity rests between the cusps, whereas an onlay covers one or more cusps, as well as the area in between. A crown replaces the entire outside area of the tooth above the gum line.
Indirect fillings generally require two or more visits. During the first visit, your dentist prepares the tooth and makes an impression of the area to be restored. Your dentist then places a temporary covering over the prepared tooth. The impression is sent to a dental laboratory, which creates the dental restoration. At the next appointment, we cement the restoration into the prepared cavity and adjust it as needed.
Crowns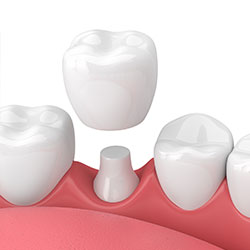 Crowns are a cosmetic restoration used to strengthen a tooth or improve its shape. Crowns are most often used for teeth that are broken, worn, or partially destroyed by tooth decay.
Crowns are "cemented" onto an existing tooth and fully cover the portion of your tooth above the gum line. In effect, the crown becomes your tooth's new outer surface. Crowns can be made of porcelain, metal, or both. Porcelain crowns are most often preferred because they mimic the translucency of natural teeth and are very strong.
Crowns or onlays (partial crowns) are needed when there is insufficient tooth strength remaining to hold a filling. Unlike fillings which apply the restorative material directly into your mouth, a crown is fabricated away from your mouth. Your crown is created in a lab from your unique tooth impression which allows a dental laboratory technician to examine all aspects of your bite and jaw movements. Your crown is then sculpted just for you so that your bite and jaw movements function normally once the crown is placed.
Bonding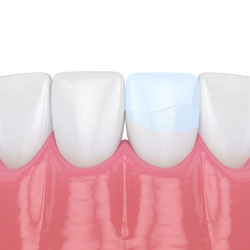 Bonding is a conservative way to repair slightly chipped, discolored, or crooked teeth. During dental bonding, a white filling is placed onto your tooth to improve its appearance. The filling "bonds" with your teeth, and because it comes in a variety of tooth-colored shades, it closely matches the appearance of your natural teeth.
Tooth bonding can also be used for teeth fillings instead of amalgam fillings. Many patients prefer bonded fillings because the white color is much less noticeable than the silver amalgam fillings. Bonding fillings can be used on front and back teeth depending on the location and extent of tooth decay.
Bonding is less expensive than other cosmetic treatments and usually can be completed in one visit to our office. However, bonding can stain and is easier to break than other cosmetic treatments such as porcelain veneers. If it does break or chip, tell your doctor. The bonding generally can be easily patched or repaired in one visit.