Our friendly and dedicated team is committed to working with you and your family to create a positive experience every time you visit our practice. Most of our team members have been in our practice for many years and our patients are like family.
We are pleased to welcome you and your family, and we look forward to getting to know you and providing excellent dental care.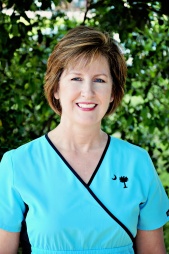 Diana
Registered Dental Hygienist
I first joined our team in 1985 but have worked in the dental field since 1977. In my 36 years as a dental hygienist, I have always worked hard to provide the best care and treatments possible taking a lot of pride in my job. Whether cleaning teeth, doing periodontal treatments, or general oral health procedures, my goal has always been quality dental care and satisfied patients. Dr. Simpson shares the same philosophy. He is pleasant and really cares about his patients.
I have a great family. My husband works at Savannah River site. We have been blessed with two wonderful children, a son (Brice), who graduated from University of South Carolina and is working as a Registered Nurse at Duke University hospital in Raleigh, NC and a daughter (Haley),who graduated from Aiken Technical College and is working as a lab technician at The Environmental Lab at Savannah River Site.
Since our children are grown and live on their own, and we are "empty nesters" we enjoy traveling, going to the beach and mountains or wherever we want to explore.
Terri
Registered Dental Hygienist
I joined our great office in 1994 after entering the field in 1987. I love working with Dr. Simpson because he values providing high quality dentistry that puts the patient first. I perform many duties around the clinic including dental cleanings, radiographs, fluoride treatments, and sealants. My favorite part is educating and inspiring patients to take better care of their teeth.
I have been happily married for 26 years and have two children, a son and a daughter. I enjoy being involved in my kids' lives. I support their activity in scouting, band, and sports.
Alysha
Registered Dental Hygienist
I have worked in dentistry since 1998 and joined our office in 2005. As a hygienist, I genuinely enjoy my work and strive to make prevention appointments a positive experience for my patients. I consider it a privilege to work in our office, as our team believes in maintaining a conservative approach to dental treatment while providing high quality care.
My husband and I married in 1998 and have two children, Logan (2003) and Mallory (2007). Our kids are teens so family time is precious. We love all things Clemson, as our son (and all of our money) goes there!
Julie
Front Desk Administration
I am proud to say that I have worked at Dr. Simpson's office my entire time in dentistry since joining the field in 1998. Dr. Simpson provides exceptional care and truly cares about his patients. I have enjoyed getting to know our patients and watching their families grow the last 23 years. I take care of billing, payroll, insurance, and any other office duties needed to give our patients a smooth and enjoyable experience.
I married my high school sweetheart in 1999 and was blessed with my twins, Sawyer and Bella, in 2009. We also have a toy goldendoodle named Katie. I enjoy family time, watching my kids play sports, being outdoors, cooking, church, and traveling.
Lisa
Office Administration/Dental Assistant
I joined the field and our office in 2010 after graduating from Aiken Technical College with a degree in dental assisting. I like working with Dr. Simpson. He brings a positive energy to our office that inspires us to help patients achieve the best smiles possible. I enjoy assisting during treatments with patients of all ages.
I married my wonderful husband, Sam, in 2008. My pride and joy comes from being a mother to my beautiful daughters Hannah and Brianna. I enjoy spending every free moment I have with my family, camping, boating at the lake and traveling on family vacations.